?

My Own Pet Note Cards
(link to details)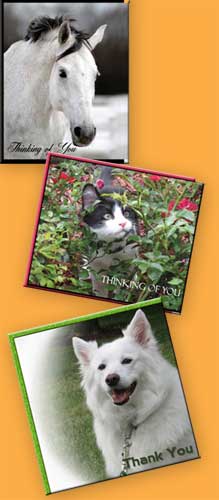 Welcome to C.A. Hanck Graphics & Web Site Design


WEB SITES
I do web sites for small and medium size businesses. Check out my commercial portfolio page for links to a few sites I have designed. New site launched - check commercial portfolio page for details.

If you want a custom look for your site, complete with original artwork and a complimentary design, I am the person to contact. Do you desire a logically layed-out site that your visitors will find easy to navigate and user-friendly? Please contact me. I would love to design the site of your dreams for you without breaking your budget.

DESIGN & ILLUSTRATION
I also design and illustrate in the commercial print industry. Visit my portfolio pages.

Are you tired of seeing wedding, anniversary or special occasion invitations that all look the same? I have created a unique concept in the design of wedding and all occasion invitations. Please take a minute and visit my invitation page - you will be intrigued!
<------- Here are a couple of samples for you to look at. Imagine... your own pet note cards!
Thank you to my friends who shared their pet photos with me.

Here's what's
New:
Banner Advertising - Get Your Business Noticed




Internet Advertising is a big part of getting your business to the right customers. It is a quick and easy way to promote your business. Check out examples of banners on our banner page- We can have you up and running with a new banner ad immediately. Visit our Banner Page to see examples.

Call 630-853-5437 or email - cahanck@yahoo.com for a quote today.

My Own Pet Note Cards - We Are Doing All Occasion Cards!

(link to details)

It's really simple - send me a picture (a good clear image) of your favorite pet and I will make personalized note cards for you.

E-mail me at: cahanckgraphics@aol.com for details. I am just starting this new project and I am very excited - just imagine your favorite pet on your own stationery!


Greeting Cards
- click here for details.
?